Nutritional Value of Dried Vegetables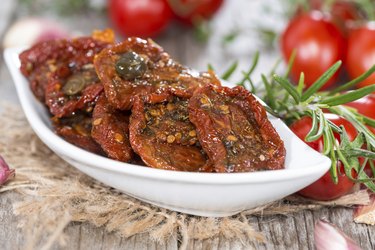 Dried out vegetables, with their harder surface and shriveled structures, probably won't be your most memorable vegetable decision, yet drying vegetables is a protected, low-fat and dependable technique for safeguarding them. The fact that dehydrated vegetables retain most of their nutritional value means that you can use them to meet the U.S. Department of Agriculture's recommendation of two to three cups of vegetables per day as your daily vegetable intake.
Calorie Content
Dehydrated vegetables only take up half the space of fresh vegetables but retain all of their calories. The moisture content of vegetables can be almost completely removed using current dehydration technology, leaving only 2% to 3% of the finished product. The expulsion of dampness likewise expands the capacity life of the vegetables.
Heat and Nutrients
The drying out process opens the vegetables to some intensity. Vitamin C, a heat-sensitive vitamin, is lost even though the temperatures are kept fairly low. As long as the temperature is kept under control, vitamin A keeps fairly well in the heat. However, these two vitamins will also be lost or destroyed by conventional cooking methods. When dried vegetables are rehydrated, water-soluble vitamins like B vitamins may be lost, but if you use the soaking liquid when cooking, you can keep them.
Dietary Fiber Content
The vegetables remain a high-fiber option because dehydration preserves their full fiber content. Fiber in your diet can help alleviate constipation and add bulk to your diet. Vegetables naturally contain a lot of soluble and insoluble fiber; the previous makes delicate mass, while the last option helps accelerate the section of waste through your insides.
Item Specification 
 

BIO BREEZE

SPECIFICATION MANUAL

 

Section     : 1.7.2.1

 

DRIED VEGE MIX

(Soup Mix)

 

Page         : 01

Issue no    : 02   

Issue date : 23.08.2021

 

Product description

 

Made of sound, mature Vegetables (Carrot, Leeks, Cabbage, Potato, Tapioca)  that have been selected, washed, cut, dehydrated, sorted and packed.

 

 

Country of origin

 

Sri Lanka

 

Recipe

           

Recovery: Fresh weight 10 kg is in 1 kg dried.

Preparation: 

1. As Soup

2. As Chops.

3. As curry, Cook with Coconut milk. Add Bio Breeze Mild curry powder or Curry leaves, Onion, Pepper, Salt & Lime.

 

Chemical attributes

 

Moisture content: 10 (+/-2) %                      

 

 

Physical attributes

 

 

Average thickness: 10-20 mm

Texture, flavors and aroma: Typical Dried Vegetable Pieces           

Color: White, Green, Orange & Purple Pieces                              

GMO, Radioactivity & Allergens: free

               

 

Microbiological attributes

 

Total plate count at 350 C: Below 1 x 104 CFU/ g                 

Yeast & Molds: Below 1 x 103 CFU/ g                                                                                                                                                                     Coliforms: <10 CFU/ g                                                           

Staphylococcus: NIL                                                             Enterobacteriaceae:   <3 CFU/ g                                           

Salmonella: NIL

 

 

 Packaging

 In Food grade NLLDPE bags with gas barrier properties (Ex: O2, N2 & Moisture). Bags are flushed with N2 gas

Shelf life

12  months (in un-open bags)

Ambient Storage

Store in cool 180 C, dry place.

Ink jet printing

As per customer requirement

Labeling

As per customer requirement

Type of carton

Brown color corrugated cartons

Pallet

As per customer requirement

 

Carton arrangement

 

7 g packs- 200 g per Pack.

200 g packs- in 3 kg per Carton.

 

 

Special distribution Controls

 

Physical damages, exposure to inorganic chemicals, excess humidity and temperature extremes must be eliminated